Whole Grain Salad low in FODMAP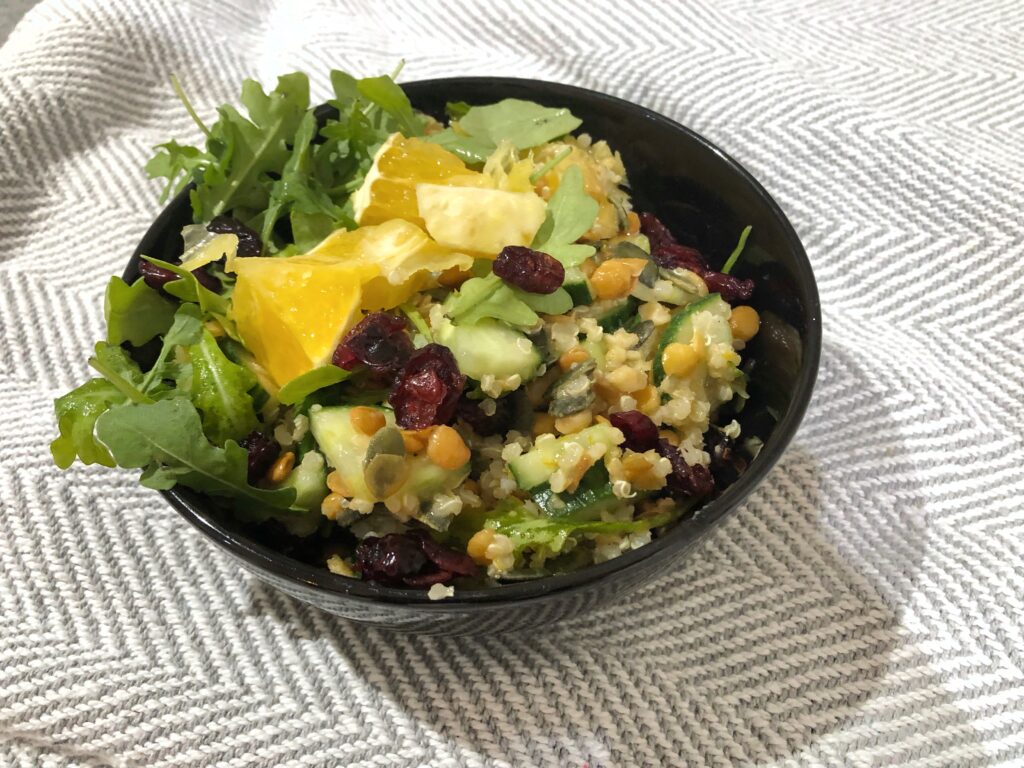 A satiating AND colorful salad: it is possible even with a low FODMAP diet!
* It is important to respect the number of servings to respect the servings of FODMAPS.
Whole grain salad
Servings : 4
Preparation : 15 minutes
Ingredients
SALAD
1 cup (250ml) quinoa, cooked (1/3 cup dry)
2 cups (500ml) brown lentils canned, rinsed and drained
¼ cup (60ml) sunflower seeds
¼ cup (60ml) pumpkin seeds
¼ cup (60ml) dried cranberries
1 cup (250ml) aragula
1 cucumber, cut in quarters
1 orange
VINAIGRETTE
1 tbsp (15ml) orange zest
2 tbsp (30ml) rice vinegar
2 tbsp (30ml) olive oil
1 tbsp (30ml) maple syrup
2 tsp (10ml) Heinz mustard
Methods
Zest the orange, reserve the zest in a small bowl.
Peel the orange, then dice it and place in a large bowl.
In the large bowl, add the salad ingredients.
In the small bowl, add the dressing ingredients and mix well.
Add the dressing to the salad and toss everything in the large bowl and serve immediately.