We reinvent the energy balls to integrate more protein thanks to the TVP – the textured vegetable protein (also called TSP-textured soy protein). Made from soy, it is pressure-cooked soy flour from which a little more than half of the fat is removed. This leaves protein, fiber and nutrients, making this food an ideal meat substitute. Here is a brand of PVT available in the market (but there are several more, including many bulk options).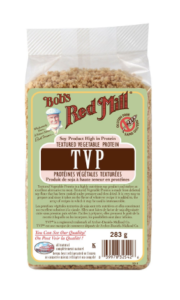 TVP energy balls
Servings : 16 balls (1 portion = 1 ball)
Preparation : 20 minutes
Cooking : Aucun
Ingredients
60ml (1/4 cup) tahini (sesame butter) or peanut butter
60ml (1/4 cup) maple syrup
60ml (1/4 cup) melted dark chocolate
250ml (1 cup) dates
250ml (1 cup) puffed rice cereal or textured vegetable protein (TVP) OR half and half
1 pinch of salt
125ml (1/2 cup) sesame seeds
Methods
Purée the tahini, maple syrup, melted chocolate and dates in a food processor. If the mash does not form, add 1 tsp of water at a time to form the puree.
When the texture is smooth, gradually add the cereals and / or soy proteins, pulsing with the food processor so that they are incorporated without being mashed.
Shape into small balls of about a tablespoon then roll them in the sesame seeds.
Nutritional values per serving
Kilocalories : 120kcal
Carbohydrates : 16g
Fibers : 2g
Lipids : 5g
Protein : 5g