October 14, 2020
Nutrition of an IRONMAN: Jeremy Law and Pierre Allard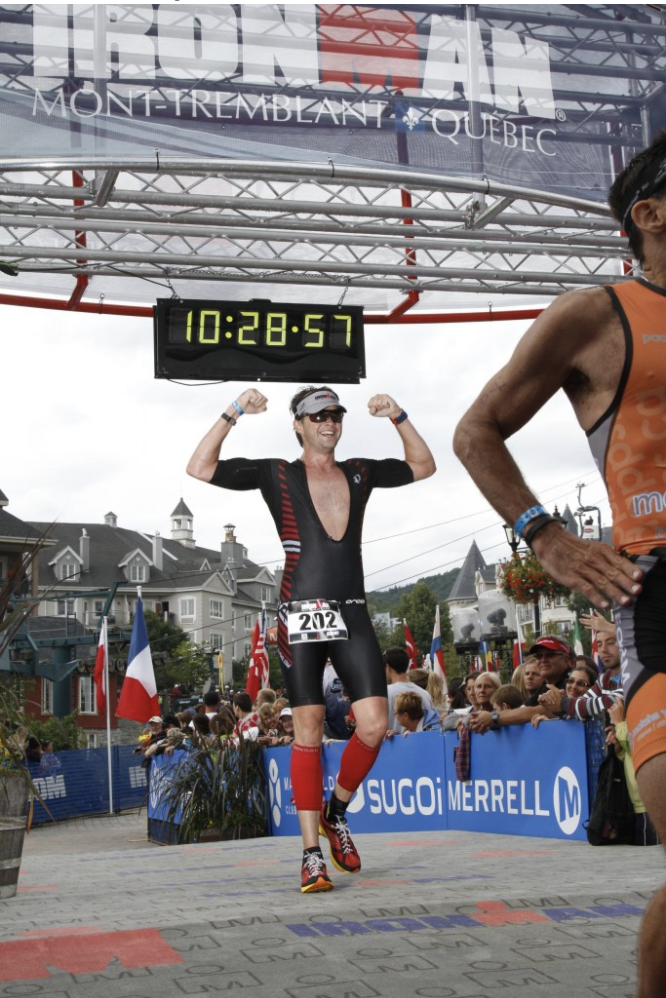 To succeed in an Ironman distance triathlon, you first need a lot of motivation, discipline, time and, let's face it, sheer madness! Obviously, one must also achieve excellent physical condition, but also follow a diet adapted to the disciplines and types of training in question.
For Jeremy Law, chiropractor, experienced triathlete (three Ironman, six Ironman 70.3 and dozens of sprint and Olympic triathlons) and ultramarathoner, nutrition is essential to his well-being and the achievement of his performances. For Pierre Allard, physical trainer of the Montreal Canadiens, triathlon is a source of adrenaline.
In a few questions, here are details on their preparation.
Q. :
Before consulting a professional and realizing that nutrition could help you perform and recover in your training and competitions, how did you manage your daily food intake?
A: J. L.
First of all, I realized that I had to eat and drink during the cycling part and learn to eat more during the running part of the long distance competitions and training. It has allowed me to improve my performance in triathlon. It took a few years to figure out what types of gels and sports drinks worked for me. When I was studying chiropractic in Toronto, I began to realize the importance of preparation before physical exertion. I was studying full time and working part time, so my workouts had to be effective. If I was tired or hungry, training became a big waste of time. I have found that getting enough sleep while taking care to recover and eat better before my workouts resulted in greater performance benefits. However, between my workouts, I ate like a typical student, despite the education I received in healthy living!
A .: P. A.
For me, it was really the need to avoid running out of energy, not to have cramps and to have fun during this ordeal that led me to ask you for nutritional advice.
Q .:
Do you remember a negative experience, anecdote or an adventure that happened to you because of poor management of your diet before or during a race?
A: J. L.
It happened at my first Ironman 70.3 in Cornerbrook, Newfoundland, a very similar event to this year's Ironman Mont-Tremblant. Three days before the event, temperature and humidity soared above 35 degrees on the East Coast. No participant from eastern Canada or the United States had experienced such weather conditions. I remember my cycling cadence, very fast compared to my experience at the time. I was happy to start the race and catch up with my best friend, who was just a few minutes ahead of me. As soon as I got off the bike, I remember having the worst muscle cramps of my life: calves, quads, hamstrings, groins and abdominals at the same time! I barely ate while riding and I only drank two bottles of water the entire 90km route, despite the weather … I was limping in the transition tent, thinking I would be forced to walk the whole race and that I could not run with my friend to the finish line … But suddenly I see him, throwing up in the bushes while massaging his legs cramps! Apparently he had the same race plan as I did… very poor preparation for a race in the heat and humidity!
A .: P. A.
As I consulted from the moment I made the decision to do an Ironman, I did not have a bad experience.
Q .:
Knowing that the energy expenditure during an Ironman is impressive, how did you manage the foods and drinks that you and your nutritionist had planned for the course? Did you succeed in following the established plan?
A: J. L.
My nutritionist, Ariane Lavigne from VIVAÏ, helped me establish my nutritional strategy in preparation for my Ironman. The goal was for my experience to be as enjoyable as possible and for me to perform as well as possible. We found the "weaknesses" in my plan and determined strategies to solve them. She looked at the nutritional value of every food and drink available and how much I would take, then determined that my sodium intake was far below my personal needs. A few days before the race, given the predicted hot and humid weather, she encouraged me to bring some more salt capsules with me on the bike.
Q .:
What advice would you give to someone new to triathlon and aiming for a first long distance competition?
A. : J. L.
I would advise a beginner to gradually introduce a small amount of food and drink to their workouts first, so that they will eventually be able to eat and drink adequately on longer rides. Too often I hear people say that they have digestive problems in competition or during training if they are trying to eat something. Often, the amount consumed is too much when they test the food for the first time. Try small portions or small amounts of the drink to start, and if all is well tolerated, move on to larger amounts next time… A digestive system can work out too! And consult a sports nutritionist to help you plan your season!
A .: P. A.
You have to have a good training plan and above all be prepared in advance. Too many people start their preparation too late. Diet is important, but a proper training plan tailored to your strengths is also essential.
Good luck!