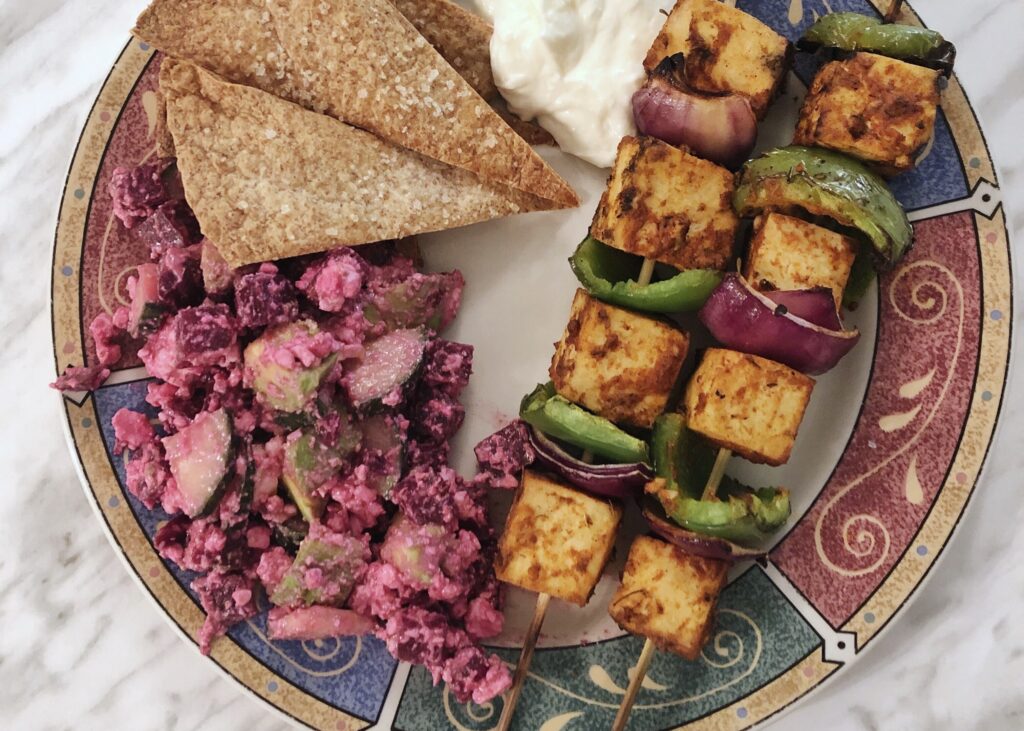 With the beautiful temperatures approaching, it's time to take out the BBQ and try this skewer recipe ☀️
Serve the skewers with one of the two salads at the bottom of the page for a complete meal.
Tofu shish taouk skewers
Servings : 4
Preparation : 10 minutes + 24h marinade
Cooking : 20 minutes
Ingredients
Marinade:
1/4 cup plain Greek yogurt (or vegan yogurt)
3 tbsp olive oil
2 tbsp tomato paste
2 tbsp potted garlic cloves tea
4 tbsp lemon juice soup
1 tbsp smoked paprika
1/2 tsp cumin
1/2 tsp all spice allspice powder
salt and pepper
Skewers:
1 block of extra-firm tofu, cubed
8 skewers
1/2 small red onion, in squares about 1 inch wide
1 green pepper, in squares about 1 foot wide
Methods
Combine all the marinade ingredients together in a large bowl.
Add the tofu cubes and marinate for 24 hours (minimum 4hours).
Soak the skewers for 30 min in water.
Thread the food onto the skewer, alternating the marinated tofu cubes, pepper and onion.
Grill on the BBQ for about 3 minutes per side or until the tofu is grilled.