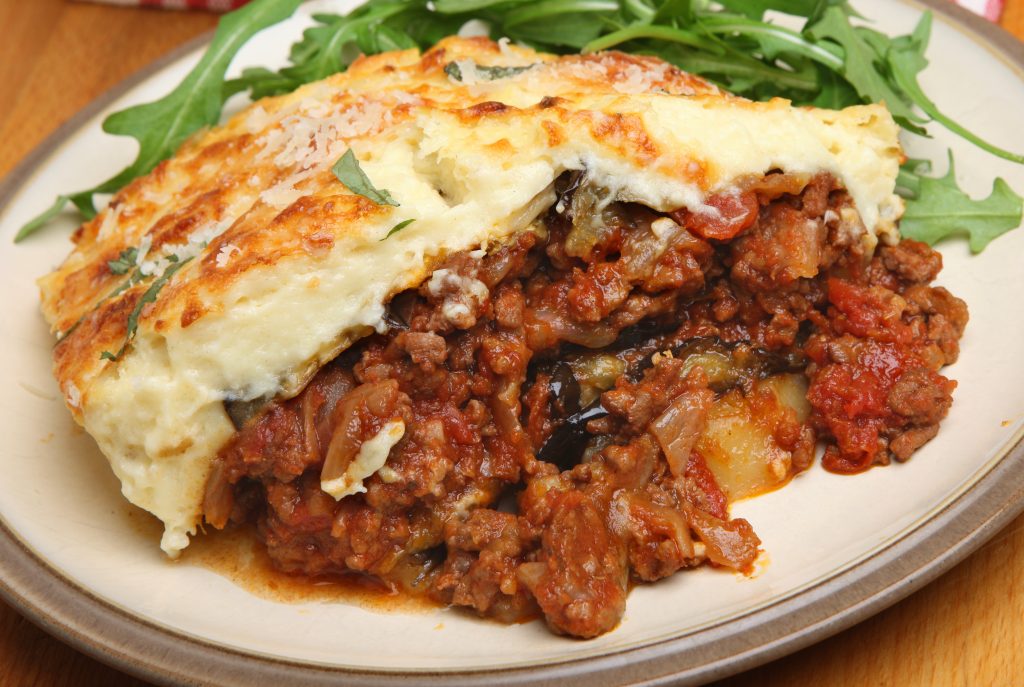 A comforting recipe for winter days.
Servings : 6 to 8
Preparation : 45 minutes
Cooking : 50 minutes
Ingredients
Moussaka
1 large eggplant, cut into 1cm slices
Oil, salt and pepper
1 onion, chopped
3 garlic cloves, chopped
454g (1lb) extra lean ground beef or lamb
45ml (3 tbsp.) white wine vinegar
2.5ml (½ teaspoon) ground nutmeg
2.5ml (½ teaspoon) ground cinnamon
1 can (796ml) low sodium diced tomato
Breadcrumbs and Parmesan cheese (optional)
Bechamel
80ml (6 tbsp) butter
80ml (6 tbsp) white flour
750ml (3 cups) milk
15ml (1 tbsp.) thyme, dried
15ml (1 tbsp) oregano, dried
Salt and pepper
500ml (2 cups) grated cheddar or mozzarella cheese
Methods
Brush the eggplant slices with olive oil and add salt and pepper to taste. Bake for 20-25 minutes at 350F.
In a pan, soften the onion and garlic in 1-2 tbsp of oil for about 5 minutes. Deglaze with the wine vinegar.
Add the meat, salt and pepper and cook for a few minutes. Simmer over low heat for 25-30 minutes.
In the meantime, make the bechamel sauce. In a saucepan, melt the butter and add the flour, whisking for 1 minute. Pour in the milk while whisking. Let thicken over low-medium heat. Add the herbs, salt, pepper and cheese.
Assemble the moussaka: place a row of eggplant slices in a 20 X 30 cm baking dish. Add the meat mixture then a second layer of eggplants. Pour the bechamel over the mixture and sprinkle with breadcrumbs and Parmesan cheese.
Bake at 350F for 25 minutes.