Minestrone soup rich in protein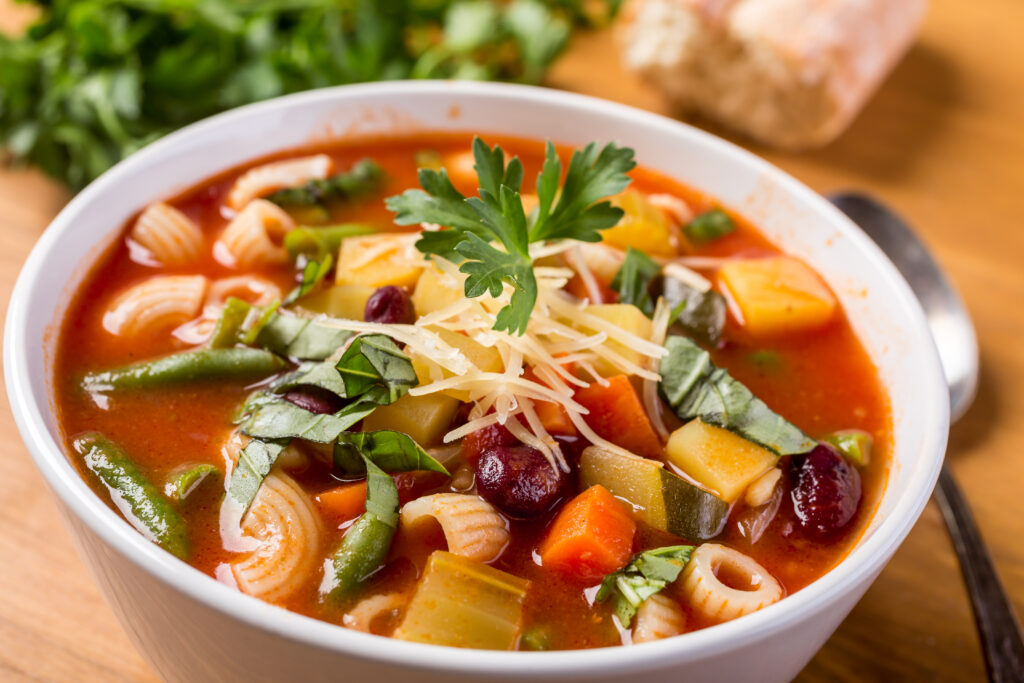 We've added a little extra to this recipe to make sure it's a complete, sustaining meal! Enjoy !
Minestrone soup rich in protein
Servings : 6
Preparation : 15 minutes
Cooking : 15 minutes
Ingredients
30ml (2 tbsp) olive oil
1 onion, chopped
15ml (1 tbsp) of each: basil, oregano, thyme
200g (1/2 lb) beef (sirloin) or boneless chicken breasts cut into small cubes
1,5L (6 cups) chicken or vegetable broth
1 can of 540ml (19oz) kidney beans, drained and rinsed
1 can of 796ml (28oz) diced tomatoes
250ml (1 cup) uncooked pasta, macaroni, rotini or farfalle (whole wheat, if possible)
250ml (1 cup) of green beans cut in 2
250ml (1 cup) diced carrots
You can also replace the green beans and carrots by 2 cups of frozen vegetable mix.
Methods
In a large saucepan, pour oil and sauté onion and herbs for 5-7 minutes over medium heat.
Turn up the heat and add the beef or chicken and cook until the meat has lost the pinkish color.
Add the broth, tomatoes, beans and vegetables. Cover and bring to boil.
Reduce the heat and add the pasta, cover again for 8-10 minutes.
To increase energy intake for voracious appetites, sprinkle with Parmesan cheese and serve with baguette bread.
Nutritional values per serving
Kilocalories : 314kcal
Carbohydrates : 33g
Lipids : 9g
Protein : 16g
Sodium : 308mg