October 13, 2020
Beet juice: an ally for your performance !
Why consume beet?
Beets are high in nitrates and lend themselves well to juice – a quick and efficient way for the body to absorb nitrates.
Nitrates, (not to be confused with sodium nitrate, an artificial chemical compound used as a preservative) are also naturally present in many other vegetables such as spinach, arugula, celery, radishes and rhubarb.
Nitrates and performance
When ingested, dietary nitrates (NO3-) are converted to nitrites (NO2-) in the mouth and then to nitric oxide (NO) in the circulation. It is the latter that acts on the body in several ways providing the potential for improvement in performance that is discussed.
Basically, the combined physiological effects of NO can make muscles more efficient and have the potential to reduce the cost of energy and oxygen on exertion and increase endurance (burnout time).
A meta-analysis (totaling 17 studies) summarized the effect of nitrates on performance in aerobic component sports and demonstrates a positive effect on performance (between 0.9-2% depending on the study). Small gains in performance can make all the difference, especially in competition or when it comes to breaking a time record, for example! However, keep in mind that this is not the only key factor in performance!
Nitrate supplementation: Suggested protocol
5 mmol (300-400mg) of nitrates 5 days before a competition (including D-day). This is equivalent to: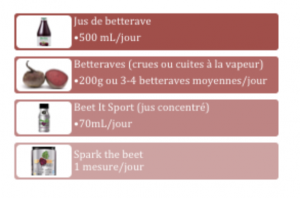 -500ml of beet juice OR
-200g/ 3to 4 medium beets/day
-Beet It Sport (juice concentrate) : 70ml/day
-Spark the beet : 1 scoop/day